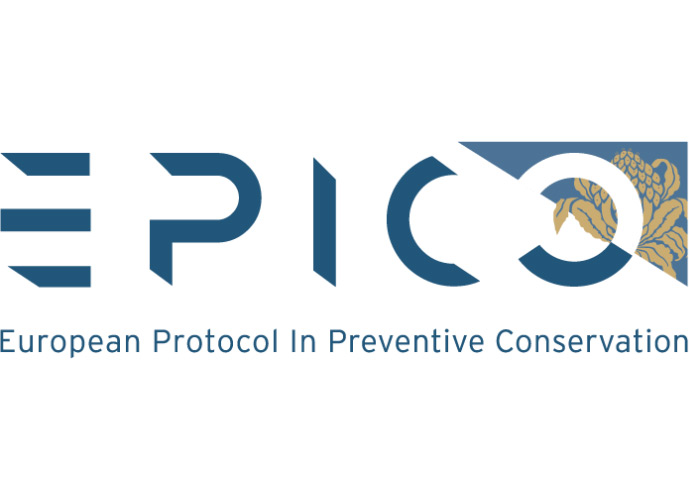 Research Program : EPICO
14 November 2014

-

29 September 2017
EPICO European Protocol In preventive COnservation 2015-2017 
( international research program on Preventive Conservation )
Laureate of the European Union Prize for Cultural Heritage / Europa Nostra Award 2018
Laureate of the Grand Prix Europa Nostra Award 2018
Category "Research" 
Historic houses and palace-museums are multi-facetted sites, originally places of power, of delight and representation; today they are museums, areas for reception, contemporary exhibitions and institutional events. All of these activities often co-exist inside one residence so this implies specific risks for collections that are different from those of a classical museum, as the conditions for their use and for visits have been designed on an ad-hoc basis. The interiors of historical houses and their collections composed of furniture, art objects, paintings, sculptures and textiles require specific conditions for conservation.
Today, the necessary professional skills and surveillance tools are widely available. However, we are aware that there is a distinct absence of any methodology applied to exhibited objects in historic houses and palace-museums or any approach which could be considered systemic, reproducible and transferable to other historical houses. This methodology would enable us to evaluate the efficiency of preventive conservation over time and across different spaces.
Objectives
Developing a method for the evaluation and planning of preventive conservation, specifically applied to historic houses and palace-museums. The purpose of the programme is to draw up a methodology for developing a preventive conservation strategy for collections on display in historic houses and palace museums.
Its aim is to provide an overall view of the state and conservation conditions of collections, to throw light on the cause-and-effect relationship of deterioration in order to prioritise and set up an action plan.
Partners 
EPV, Public Establishment of the Palace, the Museum and National Estate of Versailles and CRCV, Palace of Versailles Research Centre
The scientific management of this programme is assured by the Conservation Department in collaboration with the Palace of Versailles Research Centre. Methodology and collections management skills will be provided thanks to a multidisciplinary team.
The Network of European Royal Residences, France
The network enables partners to work together and share their experience in the preservation and promotion of the rich cultural heritage in their care. Project progress and results will be shared with the whole network of royal residences.
Fondazione Centro per la Conservazione e il Restauro dei Beni Culturali « La Venaria Reale », Italy
In charge of the specific conservation problems of the Savoy residences, the CRR provides its skills on scientific research and experience on conservation management of historic house collections.
Museum of King Jan III's Palace at Wilanów, Poland
Thanks to a multidisciplinary team, Wilanów Palace takes part in many important European conservation projects and has been putting preventive conservation into action for years.
Scientific Committee
Lorenzo Appolonia, President of the Italian Group of the International Institute for Conservation, Italy
Françoise Auger-Feige, Independant preventive conservation specialist, France
Florence Bertin, Responsible for preventive conservation, Museum of Decorative Arts, France
Danilo Forleo, Head of the EPICO program, Palace of Versailles, France
Wansart Noémie, Research assistant at the curatorial Department, Palace of Versailles, France
Nadia Francaviglia, Research associate for the EPICO program, Palace of Versailles Research Center, France
Denis Guillemard, First Director of the Preventive Conservation training program at University Paris 1 Panthéon- Sorbonne, France
Aagnoko-Michelle Gunn, Responsible for preventive conservation, Centre des Monuments Nationaux, France
Bertrand Lavédrine, Director, Research Center for the Conservation of Collections – National Center for Scientific Research, France
Stefan Michalski, Senior Scientist, Canadian Conservation Institute, Canada
Béatrice Sarrazin, General Curator for Heritage, Head of Paintings and Graphic Arts Department, National Museum of the Palaces of Versailles and Trianon, France
Sarah Staniforth, President, International Institute for Conservation of Historic and Artistic Works, UK
Duration: Three years from 2014 to 2017
Phase 1 – Bibliographical research and overview of existing methodologies: bibliographical research, inventory of existing methods and tools 
Phase 2 – Implementation of the methodology applied to historic houses: test of the new assessment methodology EPICO in a residence of Piemont (Italy)
Phase 3 – Implementation of a prototype and adaptation of the methodology to the management tools of each partner site: each partner will test and adapt the designed prototype to the management tools they use on their sites.
The EPICO research program has been presented during the international symposium « Preventive Conservation in Historic Houses and Palace-Museums: Assessment méthodologies and Applications" organized at the Palace of Versailles from November 29th to December 1st 2017.
( http://www.europeanroyalresidences.eu/event/international-conference-_preventive-conservation-in-historic-houses-and-palace-museums-assessment-methodologies-and-applications/)
Publication:
EPICO – European Protocol In Preventive Conservation, phase 1. Methods for conservation assessment of collections in historic houses, sous la direction de Danielo Forleo avec S. De Blasi, N. Francaviglia, A. Pawlak, Cronache n°7, Genova : Sagep Editori, Collana del Centro Conservazione e Restauro La Venaria Reale, 2017. (http://www.sagep.it/easyStore/SchedeVedi.asp?SchedaID=2215)
The first phase of the "EPICO" programme reviewed various existing methods for the assessment of the state and conservation conditions of collections. 
Two approaches emerge as those most often used in European and International heritage institutions:
an assessment based on the collections condition Survey
and the risk assessment, developed particularly by the 

ICC

 and disseminated by 

ICCROM

.
Which of these methods allows one to have a comprehensive and exhaustive vision of the historic house without requiring a complete, and thus time consuming, survey of all the objects and settings? Since the two approaches are equally valid, an intersection of the two seems possible, and pilot schemes of this combined approach have already been made. The objective of our research is to answer this question, in an attempt to bring to light the method that is best suited to the conservation of historic houses.
Awards:
In 2018 the EPICO programme wins the European Union Prize for Cultural Heritage / Europa Nostra Award 2018"in the "Research" category. On 22nd June 2018, during the Awards Ceremony in Berlin, the EPICO programme wins the Grand Prix Europa Nostra Award 2018.
The EPICO methodology allows a diagnosis to be carried out leading to informed decision-making based on conservation and restoration priorities. This approach is likely to become a powerful tool in preservation policies for European heritage, serving as a model for similar collections", says the panel of experts.
The European Union Prize for Cultural Heritage / Europa Nostra Award 2018 selected 29 laureates among 160 applications in the field of in conservation, research, dedicated service, and education, training and awareness-raising. Among these 29 lauréates, 7 have been selected by the jury to receive the Grand Prix.
(http://www.europanostra.org/eu-prize-cultural-heritage-europa-nostra-awards-2018-29-winners-17-countries-announced/)
In 2018, a new three-year programm will be launched.
For more information: http://www.europeanroyalresidences.eu/event/epico2018-2020/