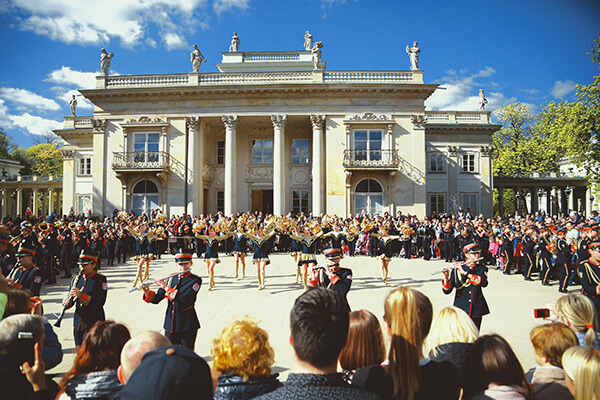 A simultaneous open-air event for "A Place at the Royal Table"
For the occasion of European Year of Cultural Heritage 2018, initiated by the European Parliament and the European Commission, the Network of European Royal Residences has developed a joint cultural project exploring the themes of culinary art, food and gastronomy in 15 European countries: "A Place at the Royal Table". From Portugal to Poland, from Italy to Denmark, a dense calendar of events to celebrate European heritage. Simultaneous appointments throughout Europe punctuated the project "A Place at The Royal Table" launched on 15th March.
Thus, at mid-term of the European Year of Cultural Heritage, on 23 June 2018, the European Royal Residences opened their parks and gardens and invited public to share a picnic, a historic recreation or a concert!
A Dinner in front of Rosenborg Castle with food prepared from historical royal recipes, an evening in the Trianon's Gardens to celebrate the 10 years of "Secrets d'Histoire" with Stéphane Bern, a "Royal Snack" at the Royal Palace of Caserta with the reconstitution of the ceremonial in use for the Bourbon celebrations with period costume, a big picnic in the Sanssouci Park with 270 meters of tables to welcome visitors, etc.
So many outdoor events bringing together young and old, passionate and curious to live together, for a day, our European heritage!
Discover all the pictures of the 23rd June here!
The same day, an Instagram photo contest – #EuropeanRoyalPalaces – has been launched to engage young audiences. More information here.