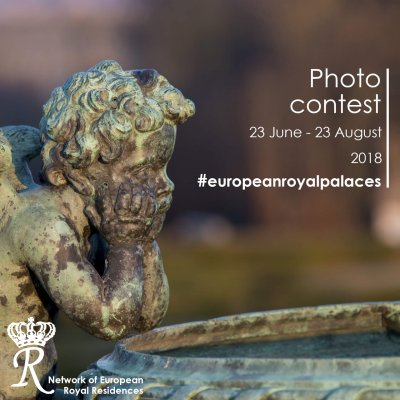 Instagram Photo Contest
23 June 2018

-

23 August 2018
European Photo Contest
#europeanroyalpalaces
From 23th June to 23th August 2018, the Network of European Royal Residences organize a photo contest on Instagram!
For the first time, in the frame of the European Year of Cultural heritage and the project "A Place at the Royal Table", a simultaneous Photo contest on Instagram in the Royal Palaces of Europe will be the occasion for sharing a unique experience.
This summer, travel in the most beautiful European royal residences, explore the Palaces' rooms, get lost in the gardens, parks… Detail, perspective, gloves, etc, share with us, and with 10 European residences, your most beautiful pictures!
List of the participants:
Palace of Versailles (France) @chateauversailles
Château de Chambord (France)

@chateaudechambord

Royal Palace of Gödöllö (Hungary)

@godollopalace

Consorzio delle Residenze Reali Sabaude (Italy)

@lavenariareale

Reggia di Caserta (Italy)

@reggiadicaserta

Musei Reali di Torino (Italy)

@museirealitorino

Reggia di Monza (Italy)

@reggiadimonza

Museum of King Jan III's Palace at Wilanów (Poland)

@wilanowpalac

Royal Castle of Warsaw (Poland)

@zamekkrolewskiwarszawa

Royal Palace of Łazienki  (Poland)

@lazienkimuzeum

Het Loo Paleis (The Netherlands) @paleishetloo

 

Historic Royal Palaces (United Kingdom) 

@historicroyalpalaces

Moscow Kremlin's Museums  (Russia)

@kremlinmuseums
To participate:
1 – Publish your photos using #europeanroyalpalaces
2 – Identify the relevant residence's account in each photo.
At the end of this contest, each palace will select one winner and will publish the picture on its account! The winner picture will be then published on the social media of all the palaces.
Congratulations to all the winners who contribute to highlight our European common Heritage ! Discover all the winning pictures on @europeanroyalpalaces and on the social media of the participants! 🏅🏅
Palace of Chambord, France. Congratulations to @kausaustralys
Palace of Versailles, France. Congratulations to @artamir_78
Royal Palace of Godöllö, Hungary. Congratulations to @celine.pics
Reggia di Monza, Italy. Congratulations to @spanema
Museum ok King Jan III at Wilanow, Poland. Congratulations to @chojecka.justyna
Royal Palace of Łazienki, Poland. Congratulations @rad_cu
La Venaria Reale, Italy. Congratulations to @IT_Reggia di Venaria_@monicazenphoto
Moscow Kremlin Museums, Russia. Congratulations to @olgavivaldi
Reggia di Caserta, Italy. Congratulations to @lavoixbleue