Aiming to develop the exchanges between professionals, the Network of European Royal Residences implemented its own programme of mobility dedicated to its members!
In order to encourage the exchange of good practices, the Network of European Royal Residences provides regularly grants for professionals working in member Royal residences since 2018.
This grant is an aid to mobility, in order to support part of the costs of a "short" mobility (1 week – 10 days) in another member residence.
All trades in the Royal Residences are eligible for these grants: curators, conservators, researchers, restorers, gardeners, educators, fundraising, development, public services and communication department staff, and all other professionals and employees of historic royal residences involved in the implementation of the institution's missions.
By exchanges, presentations, meetings and discussions, each mobility travels benefit to the grantee, the host institution and the sending institution!
To note: these grants are reserved to people working in Royal Residences which are member of the Network.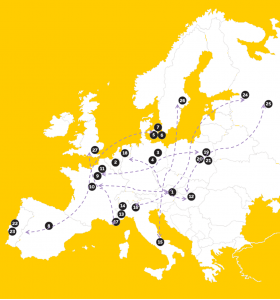 6th CALL 

Results available !
Discover the last editions and the reports of winners !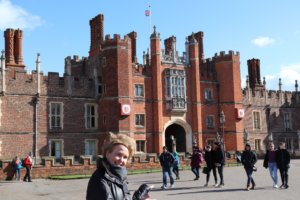 Susanne Evers, Curator of Textile and Glass at Stiftung Preussische Schlösser und Gärten Berlin-Brandenburg (Germany)
→ in mobility at Historic Royal Palaces (United Kingdom) – 1st edition
"I benefited a lot from getting to know the way the different colleagues worked. The problems, especially in textile conservation, are similar to ours, but at Hampton Court and Kensington I got to know concepts and working methods that we have not yet applied here."
Ian Tocher, Garden Nursery Manager at Historic Royal Palaces (United Kingdom)
→ in mobility at Het Loo Paleis (Netherlands) – 1st edition
"The visit (at Het Loo Paleis, in the frame of the Mobility Program) was good for strengthening links between the two palace's garden departments. I think there could be the opportunity for further exchanges, as there are so many similarities between these two William and Mary gardens. I also discussed with the garden curator and head of education the exciting possibility of helping to organize a garden-related education workshop at Het Loo in the near future."