Each 19th July, #Palace day brings together Royal Residences, cultural and political institutions, public from all over the world, to share tweets and pictures of our common Heritage.
In 2015 the digital teams of the members of the Network of European Royal Residences met in Turin at the Reggia di Venaria Reale to discuss their respective digital strategies, their projects and the challenges they face on a daily basis.  It was on this occasion that the idea of a common social media event is born!
#PalaceDay was launched in July 2016, at the initiative of the Palace of Versailles, with the creation of 
The first edition of Palace Day was a big success with more than 70 participants in 10 countries and more than 6 000 Tweets featuring the #PalaceDay hashtag.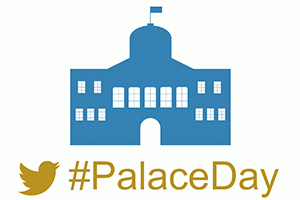 After the success of the 1st edition, the Network of European Royal Residences decided to pursue the adventure and to repeat the operation each 19th July!

Each year, a new theme is selected by the Network
In order to reinforce the participation of the public, 1 simultaneous European Instameet have been organized in 10 residences member of the Network in 2018. The experience was repeated in 2019. 1 Instagram page has been also developed !
In 2018, #PalaceDay has been viewed 10 million times. In 2019, it has been viewed 60 million times !! 
How to join the event (for the institutions)
The event is open to all : Palaces and tweetos
To appear on the map, register to the event at : https://forms.gle/KxXnGmLi3ZQ28oFo6  (not mandatory)
Share your best pictures of royal residences on July 19th on social media with the #PalaceDay  📷

If you have question, write to :

palaceday@hotmail.com
For more information: www.palaceday.com